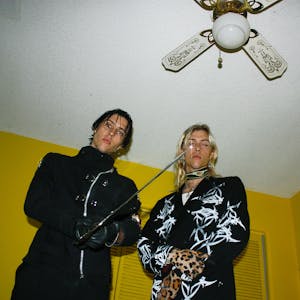 The Garden
George Clanton
First Unitarian Church
Philadelphia
,
PA
The Garden w/ George Clanton at the First Unitarian Church
The April 18th Garden at the First Unitarian Church has been postponed to a date to be determined - All tickets for the new date will be honored - If you cannot make the new date, we will refund your ticket - Please wait until the new date is announced (unless the original concert date has passed) to inquire about a refund - Thank you for your patience and understanding!
A message from the band —
Due to ever growing concerns, state regulations and for our audiences' safety, all of our 'Kiss My Super Bowl Ring' U.S. tour dates have been postponed. We already have rescheduled dates and will announce those as soon as possible. All previously purchased tickets will be valid for the rescheduled show. Thank you for your support during this time. -The Garden
The Garden
The Garden is an ever evolving duo from Orange County, California. Established in 2011 by twin brothers Fletcher and Wyatt Shears, they also created the term, "Vada Vada" to represent their music and other endeavours. 
Typically seen live playing drums and electronics, Fletcher can also be seen front and center on vocals, belligerently performing alongside his brother, Wyatt. 
Wyatt consistently takes position of lead vocals and bass in the duo whilst performing and can be seen simultaneously moving in un-choreographed bizarre patterns. 
Touring globally since 2012 they have become known for their energetic, aggressive and off the wall performances. 
To date the twins have released four EP's, three full length LP's – the latest "Mirror Might Steal Your Charm" released on March 30, 2018.
George Clanton
George Clanton first became a known in 2011 as an early leader in the sample-based subgenre "Vaporwave" using the anonymous moniker "ESPRIT 空想". His 2014 release Virtua.zip is considered by many to be the first vaporwave album composed wholly of original compositions. In 2015, Clanton temporarily dropped the monikers and released an album of vocal-driven pop songs. This record, 100% Electronica was named one of top 10 albums of 2015 by Gorilla Vs Bear. In 2016, Clanton was invited to open for Sophie and Charli XCX at Gorilla Vs Bear's 2016 SXSW showcase, which Yahoo Music called "the best thing we saw at SXSW all week."

Following that performance George Clanton formed a record label with his girlfriend Negative Gemini, also called "100% Electronica." They have been touring and releasing new music from other notable internet niche artists ever since. One of the most notable releases was Clanton's own remix album 200% Electronica, which sold all 1000 copies within a month of its release in November 2017.

On August 18th 2018, George premiered his latest album Slide in front of a sold out audience at Brooklyn New York's "Elsewhere". Shortly after selling out all copies on pre-order reservations alone, Slide went on to receive positive reviews from Pitchfork and The Needle Drop where Anthony Fantano deemed it "orgasmic."

Venue Information:
First Unitarian Church
2125 Chestnut Street
Philadelphia, PA, 19103