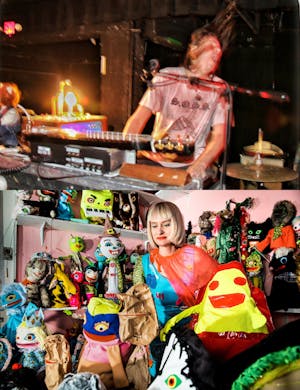 Quintron And Miss Pussycat
The Three-Brained Robot
PhilaMOCA
Philadelphia
,
PA
Quintron And Miss Pussycat w/ The Three-Brained Robot
Quintron and Miss Pussycat
Quintron and Miss Pussycat have been making genre-defying noise and hard rocking dance music in New Orleans for over fifteen years. The majority of their 14 full-length albums have the psychedelic soul of traditional New Orleans party music filtered through a tough distorted Hammond B-3 and a cache of self-made electronic instruments.
MISS PUSSYCAT plays maracas and sings, as well as entertaining all age groups with her highly amusing technicolor puppet shows.
Hers are complex puppet shows beautifully crafted for success in intimate venues of late night drinking and dancing: tactile, idiosyncratic characters, pithy dialogue, electronically pixilated soundtracks, and trippy black light effects create a visual and engaging overture/finale to Quintron and Miss Pussycat's music sets. Quintron aids in puppet manipulation and voicing. Miss Pussycat, in turn, sings lead and back-up and plays maracas during Quintron's performances.
Quintron has released strange soundscapes based on inner-city field recordings of frogs and neighborhood ambiance as well as holing himself up in THE NEW ORLEANS MUSEUM OF ART for three months to create the epic "Sucre Du Sauvage" (Goner, 2011). In addition to his own recordings, Quintron has played organ on a number of other records, most notably THE OBLIVIONS "9 Songs" and STEVE RILEY AND THE MAMOU PLAYBOYS "Grand Isle" which was nominated for a Grammy in 2012 and featured the Quintron penned song "Chatterbox". Most recently Quintron has been releasing albums under the name "WEATHER WARLOCK", a project which features his mammoth weather controlled analog synthesizer. He and Miss Pusscyat were the chosen to be resident artists at the ROBERT RAUSCHENBERG FOUNDATION and it was there that he conceived and completed that project while Miss Pussycat perfected the art of the inflatable puppet theater.
Quintron regards his most significant creation to be a patented instrument called THE DRUM BUDDY, a light activated analog synthesizer which creates murky, low-fidelity, rhythmic patterns. Notable DRUM BUDDY clients include performers Nels Cline of Wilco, Laurie Anderson, Fred Armisen, and DJ Mr. Dibbs.
The Quintron / Miss Pussycat experience is one of barely controlled electronic chaos, "Swamp-Tech" dance beats, small explosions, incredible clothes, and entertaining puppet stories. You can see them perform regularly at the Spellcaster Lodge in New Orleans, Louisiana or on one of their many tours around the world. This act somehow has equal relevance in sleazy nightclubs, pizza restaurants, and university lecture halls."
Miss Pussycat has a new puppet show soundtrack album out on Terror Vision called "Anthropomorphizer" and Quintron (as Weather Warlock) is about to release "Sympathetic Magic", an album recorded live in Abu Dhabi with mostly Middle Eastern improvisers.
The Three-Brained Robot
Ritualistic Mating Dances, Improv Stand-Up, Performance Art, Broken Pop Music.

Venue Information:
PhilaMOCA
531 North 12th St.
Philadelphia, PA, 19123