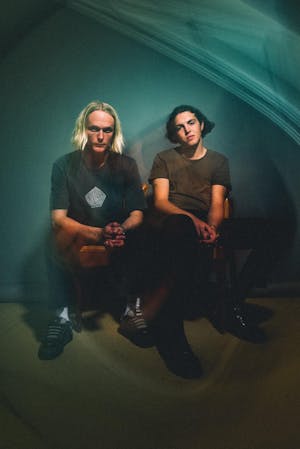 Hockey Dad
Goodbye Honolulu, Gymshorts
First Unitarian Church
Philadelphia
,
PA
Hockey Dad w/ Goodbye Honolulu & GYMSHORTS at the First Unitarian Church
Hockey Dad
Carefree, youthful innocence and long summer days spent in their unassuming hometown of Windang, on Australian shores and now internationally, all of these have now become synonymous with the unmistakeable, sun-drenched pop of Hockey Dad. With the passing of time, adolescence and two records, the music of lifelong friends Zach Stephenson and Billy Fleming, was inevitably bound to mature and change with them. As they have since their humble beginnings, playing DIY shows at their local, Rad Bar (RIP), Hockey Dad have exceeded everyone's expectations, to become the international phenomenon they are today. Not surprisingly, the musical growth of what is to come, continues this trend.
With the youthful debut 'Boronia' (2016), along with their International breakthrough sophomore LP 'Blend Inn' (2018), the Hockey Dad boys have sold out theatres throughout Australia and internationally, whilst performing as part of Reading and Leeds Festival, Pukkelpop and more of the world's most celebrated festivals. Despite this international success, Hockey Dad's roots are still strongly based in their home of Windang, NSW, but now informed with a worldly experience that only comes with the far-reaching travel of a seasoned touring band.
With the close of a decade looming and a now-impressive back catalogue behind them, the first taste of Hockey Dad's new material finds them in a decidedly more reflective place, taking snapshots of places and experiences from the last few years and filtering them through their particular process. With Stephenson delving lyrically into the passing of time and age, Fleming feels "as though (Hockey Dad) have been merely scratching at the surface of (their) song-writing over the past few releases" – "It's almost like we decided, instantaneously, to focus on being as creative as possible this time around".
Hockey Dad have come bursting through the gates with their first new offering, 'I Missed Out', full of frenetic energy, a manic guitar line and clear change in emotional direction lyrically. Stephenson has become calmly reflective, yet celebratory here, as he puts it "Blend Inn dealt with problems in a less mature way through fighting and complaining. I think getting older, I have come to see these situations as learning experiences - using these songs to understand my surroundings and lessons I've been given." It's the first, sweet taste of their next chapter, hurtling into the international spotlight yet again.
Goodbye Honolulu
Goodbye Honolulu, evoke a 90s slacker vibe mixing vintage garage rock n roll history with modern elements, it's not exactly pop and it's not exactly punk.
We all know how these band biographies go, right? Friends meet in high school, start jamming, form band in parents' garage and everyone lives happily ever after.
Well Goodbye Honolulu DID meet in high school but they didn't just form one band. Actually we're getting ahead of ourselves. Max and Emmett met on Halloween in Grade 5 when they both turned up at school dressed as James Bond, and a few weeks later the pair had formed their first band. Max and Emmett met Jacob and Fox in High School and formed 5 individual projects, also while still in school the foursome started their own record label, the 100% local Toronto label Fried Records. While other kids were cramming for exams or wasting away playing video games, the Goodbye Honolulu boys were busy playing in bars (attempting to sneak their underage friends in), honing their live skills, writing songs and self releasing multiple albums a year.
These teenage years were laying the foundations and as they hit their 20s Emmett, Jacob, Fox and Max decided to join forces and focus their song-writing and energy to one project, say "hello" to Goodbye Honolulu.
Goodbye Honolulu is best known for their live shows and in best form when every member is screaming their heads off with shout along choruses. Whether it's Emmett's fuzz-layered guitar, Jacob's gnarly vocals, Fox's Bowie-inspired vocal inflections or Max beating his drum kit to death, Goodbye Honolulu make their audience the VIP guests to their rock n roll party.
Highlights of Goodbye Honolulu's ride so far include two USA tours supporting their pals Hinds, releasing No Honey (2017) and releasing their debut album Heavy Gold in 2016.
GYMSHORTS
This four-piece punk dynamo from Rhode Island, is everything you want in a punk band: brutal, unrefined, and absolutely thrashing. With songs like, "Daylight Savings," on which the band asserts, "I wish every day was daylight savings/an extra hour of sunlight/ an extra hour to get high," they are exactly how you'd expect them to be offstage; upbeat, hilarious, New England punks who'd like nothing more than to goof off and make music with their friends. However that impression partially collapses when they mount the stage, strap into their instruments, and reveal their sludge-coated surf riffs and drums that sound both wildly anarchic and assertively tight. GYMSHORTS has been fiercely touring the U.S for the past few years supporting acts such as La Luz, Tacocat, Ron Gallo, The Frights, Death Valley Girls, Hunny and Naked Giants.

Venue Information:
First Unitarian Church
2125 Chestnut Street
Philadelphia, PA, 19103